Serving the greater houston area
Water Heater Services in Houston
Make your daily home routines in Houston easier with a reliable water heater. From showers to cooking, cleaning, and laundry, having on-demand hot water is a convenience we all rely on. When your water heater breaks, trust the plumbing experts at Halo Plumbing in Houston. Whether you need repair, installation, or replacement, our licensed plumbers will get the job done right the first time. We stay up-to-date with the latest advancements.  Therefore, ensuring you receive quality service.
Types of Water Heaters We  Service
Water heater servicing and repair can encompass various types of water heaters used in residential and commercial settings. These types include:
Tankless (On-Demand) Water Heaters: Tankless water heaters heat water directly without the use of a storage tank. They can be serviced for issues such as gas or electric component problems, scale buildup, or temperature fluctuations.

Conventional (Tank) Water Heaters: Conventional water heaters store and heat water in a tank. They may require servicing for issues.  For instance, leaking tanks, faulty pressure relief valves, or heating element problems.

Heat Pump Water Heaters: Heat pump water heaters use electricity to move heat from the air or ground to heat water. Service may involve addressing issues with the heat pump, refrigerant leaks, or electrical parts.

Solar Water Heaters: Solar water heaters use energy from the sun to heat water. Maintenance may include checking solar collectors, pumps, and heat exchangers.

Condensing Water Heaters: Condensing water heaters are units that extract heat from exhaust gases. Servicing may involve issues with condensation drains, exhaust vents, or burner components.

Hybrid (Heat Pump) Water Heaters: These heaters combine heat pump technology with a conventional tank. They can be serviced for heat pump issues, electrical problems, or tank-related concerns.

Point-of-Use Water Heaters: These compact units are installed near the point of use (e.g., under sinks) to provide hot water quickly. Service may involve issues with heating elements, or leaks.

Commercial Water Heaters: Commercial water heaters are found in hotels or apartment buildings.  They may require servicing for issues like scale buildup, burner problems, or temp control.
Proper servicing of water heaters are crucial to ensure their longevity, and safety. For complex issues, it's advisable to seek the services of a licensed and experienced plumber.
Trust Our Experts
Looking for top-notch plumbing services in Houston? Look no further than Halo Plumbing Services. Our team ensures every job is done right and delivers a great customer experience. From water heater services, big or small, we've got you covered. Rest assured, our plumbers won't upsell unnecessary services.  In addition, we will always prioritize your preference and budget.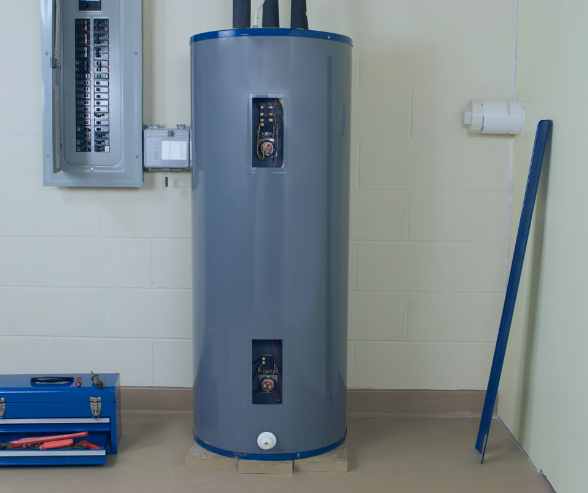 Now Offering
Trenchless Digging
Enjoy fewer disruptions and minimal impact to your yard!
Why Halo
Family Owned

01

Family operated by the Brusatori family and proud to service the Houston area.

Quick Service

02

We show up when promise and are proud of our customer service.

Quality Service

03

We take pride in our work and providing great service for all things plumbing.
Testimonials
Providing Quality
Plumbing Services
Halo services encompass almost all things plumbing. The organization has experienced technicians and leadership to handle the toughest residential or commercial projects.
Fixed a leaking main line. Kept me well informed about arrival. Quick diagnosis and repair within two hours. Reasonable cost. Very professional and pleasant technician.
I've used Halo several times now and have always had a good experience. Rates are reasonable, they are responsive and have always had knowledgeable people who knew what they were doing.
There was a little confusion about what was needed at first, but once I notified Loren that the work wasn't quite right, he sent a plumber out immediately and fixed the problem to my satisfaction. I will use Halo again.
I'm a realtor in Houston and rely on Halo Plumbing for sewer line/plumbing inspections for my clients. Highly recommend them!
Contact us today
Need A Plumbing Quote?