Serving the greater houston area
Sewer Line Repair Service in Houston
Maintaining a comfortable home is a top priority for any homeowner. Plumbing issues, such as a malfunctioning sewer line, can put a damper on your comfort.  Additionally, it can cause serious problems if not addressed immediately. Sewer line repairs are not a task for the average do-it-yourselfer. You need the expert skills and experience of a professional plumber to identify the issue and provide an effective solution. Luckily, Halo Plumbing Services is here to help.
Our reliable sewer line repair services cover the Houston area.  In addition, our team of experienced plumbers is equipped with the knowledge and tools to handle any issue. From identifying the problem to resolving it at an honest price, you can count on us to ensure your home's comfort and peace of mind. Don't let a sewer line issue ruin your day – call Halo Plumbing Services today!
Common Signs of a Broken Sewer Line
Sewer lines are essential to the proper functioning of any home's plumbing system. If the primary sewer pipe leading out from your home is broken, the water cannot flow correctly.  Therefore, leading to backups, leaks, and other problems that can be costly and difficult to remedy. Since these pipes are hidden underground, homeowners may not be aware that anything is wrong until the damage is severe.
There are some common signs of a broken sewer pipe to look out for that can help you identify the problem early on.  Furthermore, avoid more significant issues. For example, these signs can include a slow draining toilet or sink, gurgling sounds from your toilet, a lack of water flow.  In addition, you may even encounter a sewer odor in your basement or yard. Outside your home, you may notice a flooded yard that's not otherwise explained. Ignoring these signs can lead to a compromised foundation, a flooded yard.  And, expensive sewer repairs!
If you suspect that your sewer pipe is broken, contact us at Halo Plumbing Services to diagnose your issue.  Additionally, we'll provide necessary repairs to keep your plumbing system operating efficiently.
Sewer Line Repairs You Can Count On
At Halo Plumbing Services in Houston, we pride ourselves on having a team of plumbing experts who are well-equipped to handle a wide range of issues related to sewer line repairs. Whenever you are faced with a problem in your sewer lines, it is essential to take immediate action to avoid further damage that can lead to costly repairs. That is where we come in.
Our skilled professionals will inspect your sewer line problem and identify whether it can be repaired or if a replacement is necessary. We always take steps to avoid sewer line replacements whenever we can because it helps save you money.  Furthermore, it will minimize the disruption to your daily life. Trust us to diagnose and fix your sewer line problem.  As a result, you won't be disappointed!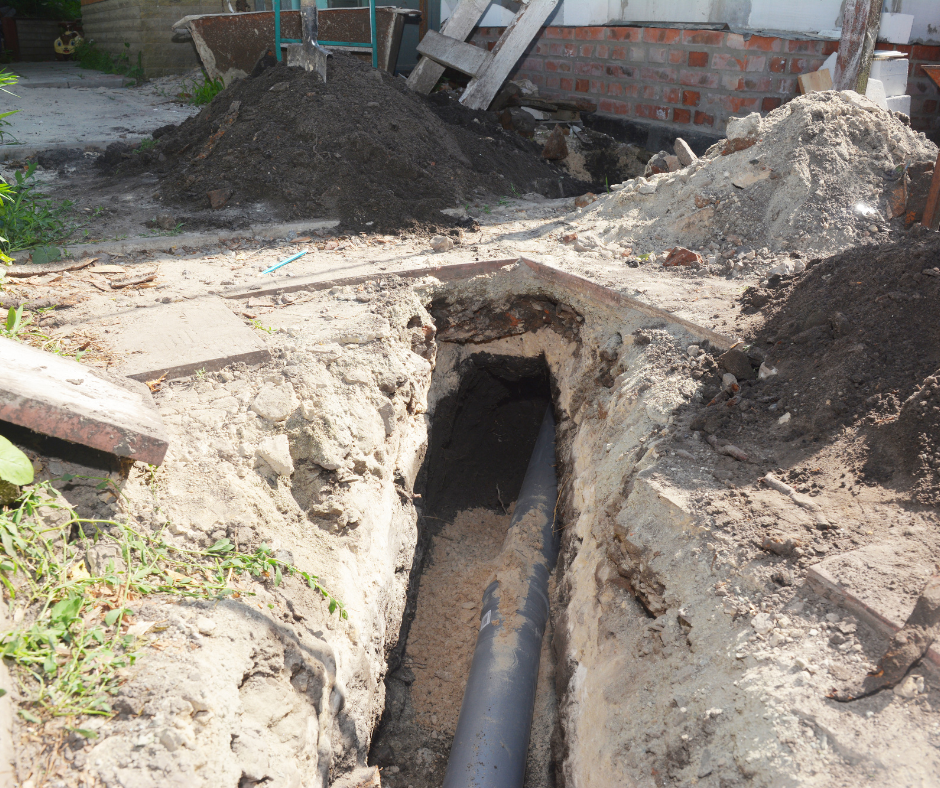 Now Offering
Trenchless Digging
Enjoy fewer disruptions and minimal impact to your yard!
Why Halo
Family Owned

01

Family operated by the Brusatori family and proud to service the Houston area.

Quick Service

02

We show up when promise and are proud of our customer service.

Quality Service

03

We take pride in our work and providing great service for all things plumbing.
Testimonials
Providing Quality
Plumbing Services
Halo services encompass almost all things plumbing. The organization has experienced technicians and leadership to handle the toughest residential or commercial projects.
Fixed a leaking main line. Kept me well informed about arrival. Quick diagnosis and repair within two hours. Reasonable cost. Very professional and pleasant technician.
I've used Halo several times now and have always had a good experience. Rates are reasonable, they are responsive and have always had knowledgeable people who knew what they were doing.
There was a little confusion about what was needed at first, but once I notified Loren that the work wasn't quite right, he sent a plumber out immediately and fixed the problem to my satisfaction. I will use Halo again.
I'm a realtor in Houston and rely on Halo Plumbing for sewer line/plumbing inspections for my clients. Highly recommend them!
Contact us today
Need A Plumbing Quote?