Serving the greater houston area
Houston Trenchless Digging Sewer Lines
Trenchless digging is a method used in sewer line repair and replacement in Houston and other areas. Additionally, it's an approach that minimizes the need for traditional excavation, which can be disruptive. Trenchless methods allow for repairs with light excavation or even none at all. There are two common trenchless methods used for sewer lines in Houston:
Pipe Lining (Cured-in-Place Pipe, CIPP): In this method, a flexible, resin-coated tube is inserted into the existing damaged sewer line. The resin is then cured.  Therefore, creating a new, strong pipe within the old one. This technique is suitable for repairing pipes that have cracks, holes, or minor damage.

Pipe Bursting: Pipe bursting involves pulling a new pipe through the old, damaged one.  As a result, breaking the old pipe as it goes. This method is used for more severe cases where the existing sewer line is beyond repair.
Trenchless Digging Advantages
Trenchless digging offers several advantages in the context of sewer line repair in Houston:
Minimal Disruption: It reduces disruption to the environment.  In addition, it minimizes the hassles for residents and businesses. This is important in urban areas like Houston, where excavation can be challenging.

Faster Repairs: Trenchless methods are often quicker than traditional excavation.  Therefore, reducing the time it takes to complete the repair.

Cost-Effective: While trenchless technology can be more expensive per foot of pipe repaired, it can save money overall due to reduced labor and restoration costs.

Preservation of Landscaping: Trenchless methods are less likely to damage landscaping.  As a result, making them suitable for both residential and commercial properties in Houston.

Environmental Benefits: Trenchless methods are more environmentally friendly as they reduce soil disturbance and the need for large excavation.

Long-Lasting Repairs: Trenchless repairs often result in new pipes that are durable to common issues like root intrusion.
Houston Trenchless Digging Services
Houston, like many other urban areas, has been adopting trenchless technology for sewer line repair and replacement. As a result, lowering the impact on the city and its residents. However, the specific method used may vary depending on the condition of the existing sewer lines and the requirements of the project. It's advisable to consult with a professional sewer service provider in Houston to determine the best method for your specific situation.  At Halo Plumbing services, we can assist you with any questions you may have.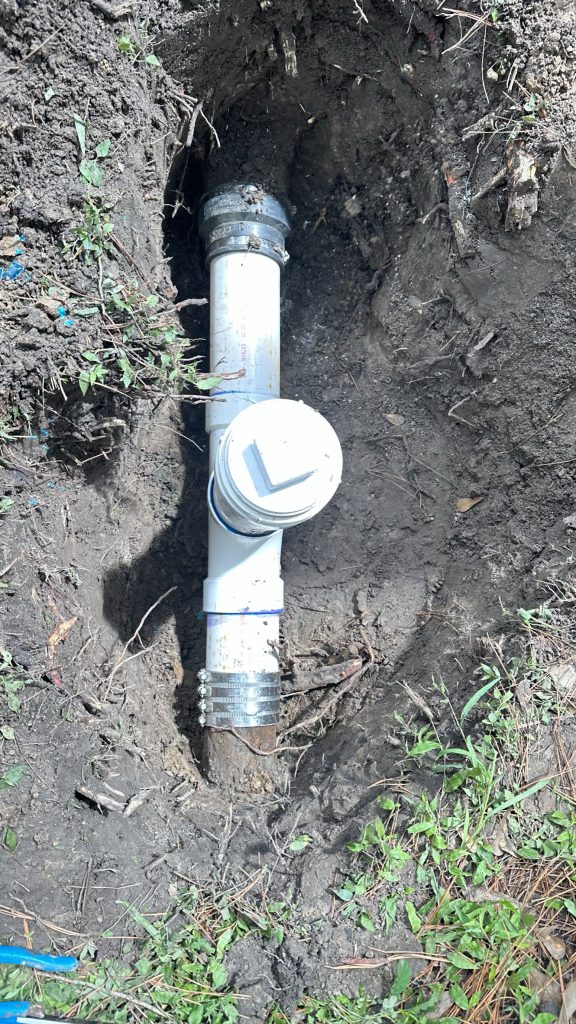 Now Offering
Trenchless Digging
Enjoy fewer disruptions and minimal impact to your yard!
Why Halo
Family Owned

01

Family operated by the Brusatori family and proud to service the Houston area.

Quick Service

02

We show up when promise and are proud of our customer service.

Quality Service

03

We take pride in our work and providing great service for all things plumbing.
Testimonials
Providing Quality
Plumbing Services
Halo services encompass almost all things plumbing. The organization has experienced technicians and leadership to handle the toughest residential or commercial projects.
Fixed a leaking main line. Kept me well informed about arrival. Quick diagnosis and repair within two hours. Reasonable cost. Very professional and pleasant technician.
I've used Halo several times now and have always had a good experience. Rates are reasonable, they are responsive and have always had knowledgeable people who knew what they were doing.
There was a little confusion about what was needed at first, but once I notified Loren that the work wasn't quite right, he sent a plumber out immediately and fixed the problem to my satisfaction. I will use Halo again.
I'm a realtor in Houston and rely on Halo Plumbing for sewer line/plumbing inspections for my clients. Highly recommend them!
Contact us today
Need A Plumbing Quote?